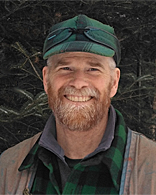 2
Dave Falkenham is the North Country forestry center manager in his home town of Lancaster NH. Dave is licensed in NH and VT and specializes in wildlife habitat improvement, forest management planning, boundary line location and maintenance, timber stand improvement and timber sale administration. Dave also has a special interest in maple marketing and maple tubing layout and design. He likes to work with organizations such as NRCS, NH Fish and Game Dept, Wildlife Management Institute and Ruffed Grouse Society to help fund forestry and wildlife projects on private lands. Dave is committed to helping private landowners get the most enjoyment out of their property.

Dave graduated from UNH in 1995 with a bachelor's degree in forest science and later in 2012 from Plymouth State University with a master's degree in environmental education. He has worked for the NH Division of Forests and Lands as a regional forester, for UNH Cooperative Extension as the Grafton County Forester and for LandVest as an operations forester. Dave was also the land manager and adjunct forestry professor at Paul Smiths College in northern NY.

He is a past member of the NHTOA board of directors and Grafton County Conservation District and is currently an active member of the Coos County Conservation District.